How to be stable in pharma franchise business
April 25, 2022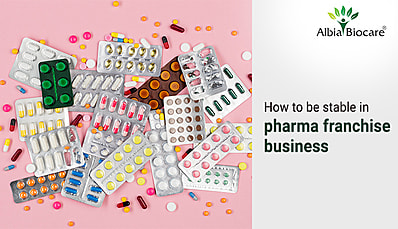 Introduction
The term business usually involves risk and profits. You can't earn profits without taking any risks. Almost all companies have profits and risks as an important part of business. Pharma industries are growing rapidly day to day and lots of people are investing in it for a stable career. Starting a pharma business is a good choice in the market. Research shows that pharma franchise business is one of the most progressive businesses with good profit margins and fewer risks. 
Important prospects to be stable in pharma business
Interact with your current customers
Your current customers are the most important resource of income. It is always easier to upsell a customer who already knows your job, the quality of medicines and healthcare products. If you've created a good relationship, you can retain them.
Profitable business
In PCD pharma business, there are no targets to be met, and the business can be lead by themselves. The individual can set their own goals according to their requirements and grow their business as much as they want. Thus, there are more chances of expanding their business venture. This helps them to be stable in the business. 
Marketing promotion
Marketing support helps to increase the brand's presence. Social media is not just a sales tool but a mean of communication. You can use it to pass useful information from the industry, post reports of particular importance or demonstrate how your business operates. You need not invest much in advertising and promotion since the PCD pharma franchise will take care of that. 
Offer combination of products and services
By selling discounted pharma products instead of individual offers, many PCD franchise businesses have achieved success. Try to keep packages flexible. If you are flexible enough you will be able to swap different products and services to match multiple needs, and you will be successful. 
Request for referrals
Your current customers provide you with customer referrals. If a customer is happy and satisfied with your products you can ask for other pharma owner's names and other information so that they can be associated and continue working with you. 
Try giving discounts
Offering a small discount over your medicines and healthcare products is a great way to increase your sales. Offering discounts attract the customers more. While announcing discounts, make sure the parameters are clearly defined – the start date and end date. This is one of the best ways to stay in the pharma business. 
Investment 
Before dealing in pharma business or taking pharma franchise, you need to prepare for a proper investment plan. This is an important step which helps your business for a smooth dealing. You need to have a minimum of Rs 40000 to Rs 50000 as an investment to purchase the drugs you require. You should be ready with a back-up plan in case of an emergency to keep yourself secure. 
Conclusion
COVID has disrupted many businesses but pharma sector is one which has seen exponential growth. For pharma businesses, the pandemic was an opportunity to increase the demand for drugs and medical equipment. In recent times, customers are prioritizing health like never before. Pharma franchise business is one of the profitable business and they help the small pharma business to grow. With the help of a franchise model you can establish a distribution channel without any hassles. 
Albia Biocare is one of the reputed PCD franchise specialist in India. We ensure that all our products meets the expectations of our customers in terms of quality and delivery. We work continuously to meet the ever-evolving needs of the customers. 
Was this article helpful?