Importance & Benefits of Promotional Support in PCD Pharma Franchise Business
July 27, 2022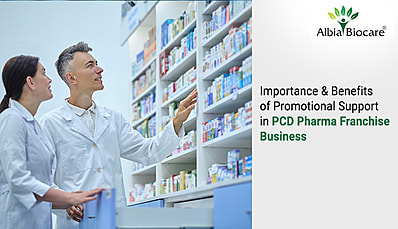 The PCD Pharma franchise is one of the most popular businesses. This sector provides high-quality healthcare products and also helps in reducing healthcare expenses. The pharma companies are getting a lot of benefits from this business model, and several people are also taking advantage of it. A pharma company needs to use promotional support for its products so that it can increase its market share, boost sales and make more profits from the product lineup.
Promotional support
Promotional support is critical to marketing your PCD Pharma franchise type of business model. Why? Because it helps you reach the right audience and encourages them to see you as an authority on your topic. The benefits of promotional support are many:
In the franchise business, product promotion support is an important deciding factor when selecting a particular company. Here are the five advantages of having promotional support in a 
PCD Pharma business in India-
It helps in creating brand awareness and recalling value in the minds of customers:
Pharma companies in India are responsible for creating and sustaining brand value and customer awareness about their product. Promotional support is an essential part of their marketing strategy and helps them in various ways. It helps the companies create top-of-the-mind recall value for their product and makes it easier for customers to identify their products. It also helps in creating brand awareness among doctors and other customers.
Product promotion activities help in generating more leads and inquiries:
Product promotion activities help in generating more leads and inquiries, which can eventually be converted into sales. Promotional support from PCD Pharma franchise companies can help you boost your sales and grow your business.
You can carry out various promotional activities, such as giving out free samples, conducting customer surveys, or organizing promotional events. Whatever promotional activity you choose, ensure it aligns with your overall marketing strategy.
PCD Pharma franchise companies can provide the necessary support to carry out successful promotional activities. They can help you plan, organize, and execute your promotional campaigns. So, if you want to boost your sales, consider working with a PCD Pharma franchise company.
It helps the franchisee to connect with more doctors and chemists in their region.
Good promotional support from the pharma company helps the franchisee to connect with more doctors and chemists in their territory. This way, the franchisee can promote their products and services in a better way and earn good profits.
Promotional support provides the franchisee with an edge over their competitors.
With a PCD Pharma franchise, you'll receive support from experienced professionals who will help you promote your products and services. This support includes marketing materials, training, and more. This promotional support is a great way to get an edge over your competitors.
If you're looking to get started in the pharmaceutical industry, a PCD Pharma franchise is a great option. With promotional support, you can get a head start on the competition.
It helps in increasing sales and profits for the franchisee.
Good promotional support is the need of the hour for a PCD Pharma franchise business. It acts as a catalyst in increasing sales and profits for the franchisee. Good promotional support by the pharma company to its franchisee includes product promotion and creates brand awareness in the market. Thus, it leads to increased sales of PCD pharma and higher profits. 
Wrapping Up:
The goals of the pharma sector are to provide quality and affordable drugs to patients, and this is possible only with the help of a pharma franchise. Promotional support helps generate people's awareness about your product and services so that they can get attracted to them and buy them. For the best option in PCD pharma, franchises in India contact Albia Biocare. We provide the best promotional support to the franchises working under our business.
Was this article helpful?