Essential Information About Dietary Supplements You Should Be Aware
September 24, 2023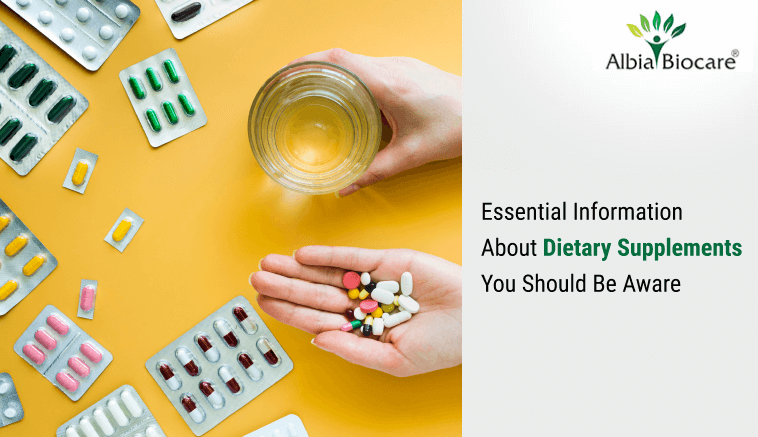 Dietary supplements may come in various forms such as pills, powder or liquid. Since these supplements are used to provide the body with adequate amounts of nutrients, these are called dietary supplements. 
Dietary supplements contain at least one dietary ingredient which can be minerals, herbs or botanicals. One such example of a highly popular dietary supplement is multivitamin supplement which is a standalone product.
But with the huge demand for dietary supplements, there comes the necessity to understand all the essential information about them.

Regulation and Classification 
All dietary supplement products are regulated by FSSAI in India. Classification of a dietary supplement depends on its intended use, and all the details of the product. PCD Pharma companies in India with the help of their product label can make claims about their product. Depending on the claims the product may fall into one of these categories as mentioned below: 
Health-related

Nutrient content-related 

Function-related.

Discuss With a Doctor or Dietician
If anyone is planning to take dietary supplements, they must always consult with a doctor or a pharmacist or a dietician. In case you visit a doctor for any ailment or medical condition, let your doctor know about all the supplements you take (if any). Also, keep a complete record of any dietary supplements that you may have taken in the past.
Not every dietary supplement will suit an individual's needs. Therefore one must talk to a healthcare provider to be able to choose the right supplement.

Safety & Quality Matters the Most
FDA has established Good Manufacturing Practices (GMPs) which is the main organisation that identifies the purity, strength, and composition of the dietary supplement products of every company. This is a way to prevent adding the wrong ingredient. Thus it ensures quality and safety of the supplement to be used. 
FDA also inspects the facilities where dietary supplements are manufactured to find any trace of contamination or wrong packaging method. This allows the companies to maintain the highest form of safety and quality measures. 
Apart from the FDA, there are many independent organizations offering quality testing. If the supplements pass the tests conducted, the products can display quality assurance. This is how dietary supplement labels carry many seals to prove their quality. But these seals never guarantee that the product is safe to use or absolutely effective.

Federal Regulation of Dietary Supplements
When it comes to the approval of the FDA, every medicine must be approved before they are sold to the market. But when it comes to dietary supplements, they do not require any such approvals. FDA, the federal agency oversees both the manufacture of supplements and medicines. Since supplements are not intended to diagnose or cure any disease, they just need to show evidence that the products are safe to use. 
This is why supplement brands must have their product labels clearly mentioned on the entire product list. This ensures that no harmful substances are used in the making of the dietary supplement. However, as long as the product does not contain a new dietary ingredient it is not required to provide any safety evidence to FDA before the product is marketed.
Although dietary supplements may have certain health-related claims, one must understand that every supplement mentions these words clearly- "This product is not intended to diagnose, treat, cure, or prevent any disease."

Dietary supplements by Albia Biocare
Being one of the leading pharma companies in India we ensure all our products are of the highest quality. We maintain strict safety measures and everything from processing to packaging is monitored and regulated.

To learn about the entire product range, visit our product page. For pharma franchise information and get in touch with us.
Was this article helpful?