Ways to Get PCD Pharma Franchise Parties to Join Company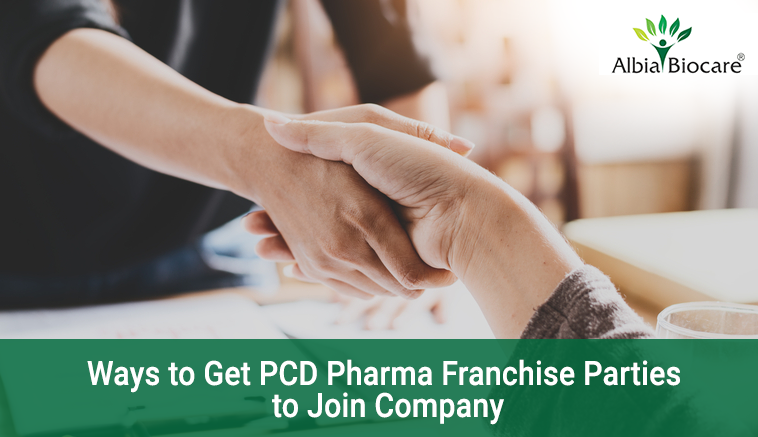 PCD pharma franchises are one of the fastest growing sectors of the Indian pharmaceuticals industry. Top PCD pharma companies in India are all competing with each other to attract the best franchise partners. But it is not always a cakewalk to convince franchise partners to join a company.
Franchise owners have to invest their own money to purchase the franchise rights, so they are often very cautious about choosing the right parent company. PCD pharma companies have to develop schemes and strategies targeted towards acquiring and retaining franchise partners.
Albia Biocare, one of the best PCD pharma company in India and our huge success over the last 20 years has been with the dedication towards creating a flexible but reliable business support system for our franchise partners all over the country.
Some tips to attract the PCD pharma franchise parties to join the company are:
Established pharmaceutical companies with a good brand reputation may not find it very difficult to find PCD franchise partners. But for newer companies, these strategies are very important if they hope to become the best PCD pharma company in India.
Consistency is Key- The biggest mistake by any pharma franchise company is attracting their franchise partners initially but then being unable to retain that relationship. Consistency if the key for all successful business enterprises and the same is true for the pharmaceutical industry. An open dialogue with the franchise partner about the company's expectations and the franchise's aspirations sets the tone for a good working relationship. Parent companies also need to provide regular operational support and a good promotional strategy to keep partners interested in the franchise agreement.
Wide Product Range- A pharma franchise company should try to diversify their product range. A large variety of products instills confidence in franchise partners about possible sales prospects. Top PCD pharma companies in India like Albia Biocare have a large range of products in different forms like soft gels, tablets, capsules, powders, granules and many more. This ensures that the parent company is always able to satisfy the requirements of the franchise's user base.
Packaging – Product packaging often plays a very important role in product salability. For the pharma, industry packaging is especially essential as good packaging ensures no damage is done to a franchise's stock during transit. This, in turn, helps franchises get a better value for their investment.
Promotional Assistance- A major reason why business owners choose a franchise model is because they expect the parent company to take care of all promotional schemes. So, it is very important for a pharma company to create and execute regular promotional and marketing schemes in order to push up product popularity and customer recall. A better promotional plan ensures higher profit margins for the pharma franchise and more business owners will also be convinced to become franchise partners.
Reasonable Pricing – Franchise owners often have to consider the cost of buying product stock on a regular basis. So, reasonable product pricing is essential to convince any business owners to become PCD franchise partners. No franchise model can succeed if the franchise partners are unable to purchase their required stock.
Target Partner Needs – PCD pharma companies in need use many strategies to encourage potential and reliable franchise partners to join their company. But companies need to target all these strategies to the specific needs of the franchise partners. Pharma companies need to highlight specific products and franchisee business assistance schemes that align with the operational requirements of the potential franchise partner. Only then there is a possibility of lead conversion and a franchise agreement being signed.
Build Brand Reputation- At the end of the day, the largest factor that drives customer traffic to franchise partners is the brand reputation of the parent company. Brands like Albia Biocare have used their decades of industry experience to establish themselves as a reliable and effective name in the pharmaceutical industry. As a result, they have been able to extend their franchise facilities to all corners of the country.
Conclusion
PCD pharma companies in India are trying to expand their number of franchises across the country. But ultimately, the decision lies in the hands of the franchise partners whether or not they choose to join a particular company.  In order to be the best PCD pharma company in India, brands have to reach out to many business owners and create a strong, loyal customer-base.
Any pharma company hoping to develop a franchise model of business expansion needs to start developing a plan right away to build and project its brand to customers as well as franchise partners. A good system of franchise management also needs to be developed. As more and more pharma franchise companiesenter the competitive Indian market, the options available for franchise partners are also growing. Companies now need to be sharper in their pitch to franchise partners in order to actually get them on board for a sustained period of time.
Was this article helpful?