Here are the Various Types of Distributors in the PCD Pharma Sector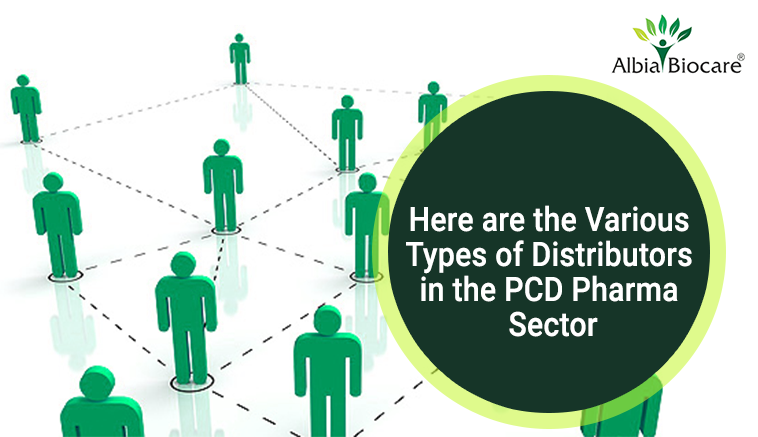 Do you have any plans to open a startup? Is your business related to the medical or healthcare field? Do you have any ideas for stepping inside the PCD pharma domain? Well, if you answered 'yes' to any of these questions, then you must spare some time to read and understand the following given contents.
They cover everything that you must be aware of about the medicine franchise companies, the various forms of PCD pharma distributors and also what should be your brand's role in the industry.
Wholesaler and Distributor – The Difference
In general, you must clearly get the difference between a pharma wholesaler and distributor, in order to understand the actual scope of operating a pharma franchise in India specifically;
A pharma distributor is a professional who will be closely associated with a given manufacturer, for sales of a higher quantity of goods and products; so as to gain popularity and much better visibility in the market. They are the ones who will search and find suitable wholesalers, who can resell their products
On the other side, a pharma wholesaler will fulfil his/her orders from the hands of retailers. They indeed assume that no role besides satisfying the demands of the retailers is essential.
Hence, medical distributors do not actually supply to any of the pharma retailers directly. They do it with the support of stockists and wholesalers. The latter will then supply the products to the retailers.
Yet, note the fact that both wholesalers and distributors from a given pharma franchise company will with the distribution, stocking, and supplying of medical goods.
To the Various Forms of PCD Wholesalers & Distributors
As a budding (or experienced) owner of a PCD pharma​ business, you must stay updated with the trends and events within the medical sector. In that line, here are the common forms of distributors and wholesalers found within the pharma domain. Based on these aspects, you can then decide on whom to appoint for the success of your franchise;
Single Party PCD Pharma Distributors:
If a person or an organization works in a small-scale setup, then it could be termed as a single party pharma distributor. These small range single-party owners will stay in direct touch with their consumers. Covering tiny territories and locations, they hold quite a high marginal value in the market.
And the best part? They may or may not have a wholesale drug license possession!
Multiple Party Pharma Franchise Company:
Medicine franchise companies that have a wider scale of sales and market coverage are said to be multiple party brands. For the purpose of reselling their profits, these types of pharma franchise runners will usually buy all their necessary drugs, medications, clinical supplies, and related tools for a 'bulk order' value. They can even appoint other mediums such as;
Agents
Brokers
Wholesalers
Negotiators
 And even small PCD pharma distributors as well. Multiple party pharma franchise owners standardly experience a huge amount of sales, but still, they earn only a minimum scale of margin.
Unlike the single party system of franchising, here with the multiple part PCD business, the concerned officials and members should have a mandatory drug license for giving valid, legal protection to the specific business as well as the designation itself. 
C&F Agents:
C&F agents stand for 'carrying and forwarding agency' (or agents). All the integral medical items, sales of certain non-focused medical goods, and some more entities are covered by these 'carrying and forwarding professionals. However, they will charge some amount of commission from the profit.
Overall, the basic notion behind these agents is to ensure that the products which have a low demand or that hold a huge perishable stock in their warehouses are properly marketed, pushed, distributed and sold off to relevant target audiences. PCD pharma companies for eye drops, ear drops, etc. fall in that line.
Pharma Franchise Merchants:
Did you know that there are people involved in your pharma franchise company who can also act as a seller's wholesaler, to exhibit full-class circulation? Yes, they are pharma merchants who can
Give credit scores.
Initiate messages and communication among parties.
Support with after marketing and advancement assistance
Drive a specific individual deal.
Offer extensive research propositions.
And finally, delivery all the crucial data and stats to the relevant customers, to administer and complete the deals.
Sometimes, you will also come across terms like "Manufacturer Exporter". They are nothing but members who have years of experience in working with medicine franchise companies to manufacture drugs and even exports or intend to export the same!
Distributions Levels of these Professionals
As we highlighted the 4 key divisions of wholesalers and distributors within the pharma industry, now you can also have a glance at the 3 distinct channels that these professionals can work with;
Exclusive Distribution: With exclusive distribution, the channels are already fixed beforehand so that it can help the persons to distribute the pharma products accordingly. Also, they have to match the customer's demand (s) with the characterized domain.
Selective Distribution: Here, with the selective distribution channel, the professional will use it as per the analysis of the needs across various territories for the pharma product distribution and sales.
Intensive Distribution: In the intensive distribution method, the producer will utilize every accessible outlet available in the market, to distribute the pharma supplies. This is just to ensure that the products are available ready when the customer requires them; be it emergency or non-crisis period.
 Choosing the ideal channel is important since the primary role of a pharma wholesaler and/or distributor is to hike up the net sales of a given pharmaceutical company!
The Conclusion
Today's PCD pharma companies and related suppliers enjoy 4 different forms of sales and distribution from wholesalers, namely, single party PCD business franchise, multiple party franchise, C&F agents, and medical merchants respectively. And, one can also get 3 channels of distribution ranging from intensive, exclusive, and selective options.
Want some more ideas and tips from real pharma experts? Then, connect with the support members of Albia Biocare. So, get ready to make your brand stand one among the top PCD pharma franchise companies in India today with the tips and strategies from pharma professionals, agents, and specialists.
Was this article helpful?