Procedure for Taking Franchise of a PCD Pharma Company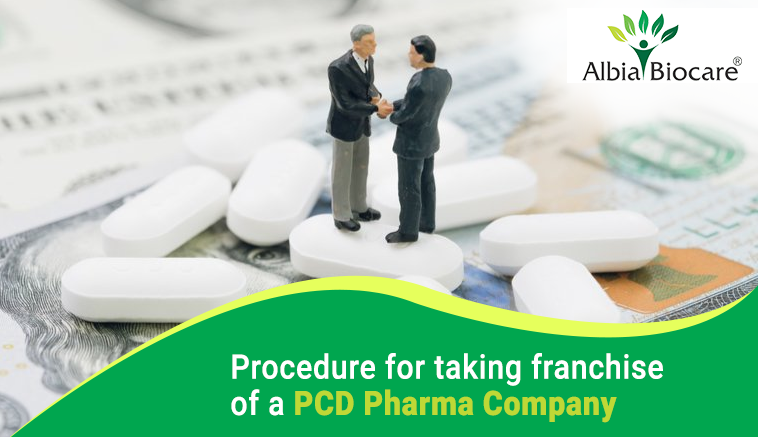 PCD Pharma franchise is an authorization given to an individual or group for marketing and distributing the company's products. PCD is Propaganda Cum Distribution which means the pharma company allows franchisees to distribute their products at monopoly rights or other mutually agreed terms & conditions to earn a marginal profit. Taking the franchise of a PCD Pharma Company is a low investment, low-risk business.
Here is a step-wise procedure for choosing the right PCD Pharma Company.
Preparation (Before Starting)
As the first step, you need to register your company and get the drug license, an income tax number, and a GST number.

Then you need to create a mission and vision to convey a purpose and a goal that company hopes to achieve.

In this preparation phase, a business plan is also developed detailing the product segmentation, financials, marketing, distribution, and other commercial activities.
Selection (Initial phase)
With a business plan in hand, you can select the area, products, and company to start the franchise business.

A survey of competitors, products, pricing, and review might help in selecting the area.

Once you have finalized the area, prepare a list of product segments and range.

The company selection is done based on the segment and range.

You need to do thorough research on the best PCD pharma companies their product list, and pricing to choose the company.

Always keep in mind to select companies with a good reputation in the market and do all the necessary background checks for trust factors. ISO, WHO, GMP, DCGI, and FSSAI are some of the certifications that you need to verify before documentation.
Budget Planning (Investments & ROI)
A proper budget plan with your demands and requirements will assist in the smooth functioning of your business. For a better return on investment choose companies with quality products and higher market value. It is imperative to ensure a regular supply of goods to keep your business running.
Authorization & Final Order (After Selection)
After selection, written documents need to be prepared with mutually agreed terms and conditions.

During documentation make sure promotional and sales support, sampling, product supply, target market, payment terms, and other conditions are included.

A monopoly agreement with a pharma company is important so no other distributor is given the authorization to sell the same product in the selected area.

After the sign off you can place an order for products and start with the marketing and distribution activities.
If you are still on a search for the best PCD pharma company do consider Albia Biocare. Albia Biocare is one of the leading PCD pharma companies in the country with the best product promotional schemes. So, choose Albia Biocare for a successful business career.
Was this article helpful?