Facts about the Impact of COVID-19 Over the Indian PCD Pharma Industry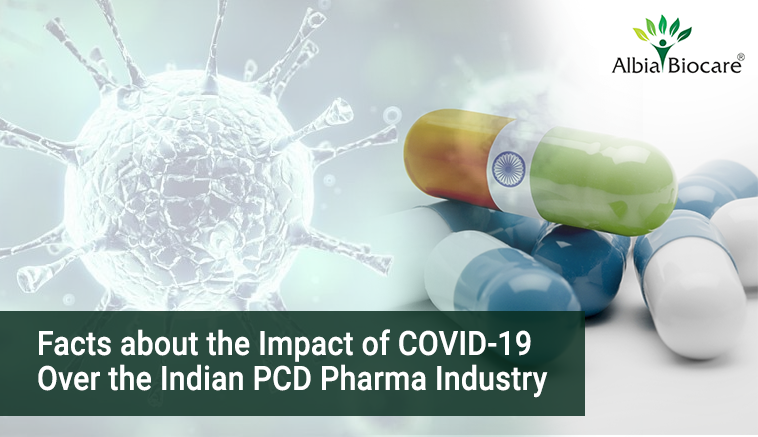 COVID-19 was and is a phase of uncertainty and disruption. Yet, unlike the many other industries of the market, the pharma domain alone is doing a good job in its operations and distributions. Some of the reputed, experienced top PCD pharma companies in India are still promising safe and quality-controlled delivery of generic medicines.
With the support of the latest supply chain management trends and mutual relationships with vendors of raw materials, any pharma franchise across India can expect a good future ahead. Notably, pharma is one of the few sectors to have offered a significant contribution in terms of both domestic and international markets.
On one side the newspapers read the headlines that people are being laid off across companies, yet, setting up a franchise in the PCD sector has actually helped beat off issues related to employee turnover and more. Read further to get some trends and updates about the real effects that the pandemic had on our country's pharma domain.
Striking Impact of  COVID-19 on the PCD Pharma Sectors
There are some more points to look at in line with the impact of the pandemic on the Indian PCD pharma distributors and the chain. And here they are as follows.
Overall Supply Chain Disruption
Before getting into the big picture of the impact of the coronavirus on the PCD sector, below are the 2 key definitions that are to be pointed out first;
Brand Name Drugs / Medications:
These are drugs that are frequently sold by the medicine issuing company, under a specific trademark or registered name. That name will already be protected by a legal patent. Brand name medications and drugs might be available with the support of a clinical prescription or as "over the counter" (OTC).
Nonexclusive/Generic Medications:
These are medicines, where the applied patent gets expired and with that, its exclusivity period will also terminate. Eventually, the other medicine franchise companies and pharma manufacturers will be allowed for the application to FDA, for sales of the generic versions, under a specific clinical name for that given drug or medication.
Now, the reason behind getting into these 2 aspects is that the supply chain of any given pharma franchise company is that the latter has a thin demand, while the former will have demands, based on the complexity and significance of the medication (and its effect). COVID-19 has ensured that agencies are still able to have sufficient levels of stocks in their medical inventories, at least for the next 5 to 7 months.
The Rising Price of Drugs
 No wonder that the pricing structure of even routine medicines has hiked up due to the lockdown. Because suppliers face challenges in getting their products and raw materials from the original sources and warehouses, thus ultimately causing more cost on the supply chain administration, inbound and outbound logistics. This has impacted the public negatively.
To give you a quick example, you would have paid Rs. 250 for 1 kg of paracetamol but now it has risen up to 300 per kg. Even penicillin, vitamins, and sub-related antibiotics, have also escalated tremendously.
Times have gone where people used to book appointments, wait for the doctors to arrive late and missed or postponed schedules. The one good thing about the pandemic is that it has helped patients to get:
Online consultation.
Virtual conferencing with doctors.
Telemedicine applications.
In-house booking of the admission
And more getting done from the comfort of our homes. That too with the development of medical science, a pharma franchise company planning to invest its revenue in online communication portals and medical social networks are going to shine bright soon.
Shipment Challenges with API
There is something called API, which means "Active Pharmaceutical Ingredient". This actually denotes all the individual ingredients and/or active pharmaceutical substances that are to be added and converted into a proper consumable medicine.
Owing to the given explanation, the near majority of the API material is known for getting sourced only from China; with the production and development of all the pharma products. On the flip side, China also imports anti-infection agents and other important natural synthetics only from India.
But due to this lockdown period, there is heavy supply chain termination, and many of the pharma franchise brands have struggled to source and procure raw materials promptly, hence resulting in a heavy cost of several life-saving drugs price hikes.
Did you know that our country, at present, is the home for the 3rd largest pharma industry with respect to the total volume of consumption as well as the 10th largest in terms of the actual value?
Yes, and being the largest product distributor for generic medicines internationally, our pharma franchise branches have all played a key role in not only contributing towards India's GDP but also roping in FDI (Foreign Direct Investment).
So, what will be the perks of getting Foreign Direct Investment (FDI), especially for PCD pharma distributors​? Well, FDI helps the country;
Gain access to a larger consumer market.
Increase the overall net foreign exchange earnings.
Get a license to enter global capital markets with rich financial resources.
And these could also be the reasons why India has a growing prospect for much better employment opportunities and medicine franchise companies!
What's Your Takeaway?
The COVID-19 pandemic might have affected all the industries and sectors of India drastically, but in the case of pharma, the adversities are quite less. Many of the PCD pharma agencies have been working efficiently even during these tough times, with new trends and the adoption of an actionable development strategy based on the current situation.
So, if you are still in need of professional assistance towards setting up your own pharma franchise company in any state of India, then please do not hesitate to contact the medical expertise at 'Albia Biocare' for more information. Our experts will help you out in getting your pharma business idea as a successful venture!
Was this article helpful?