Why competition is increasing in pharma franchise business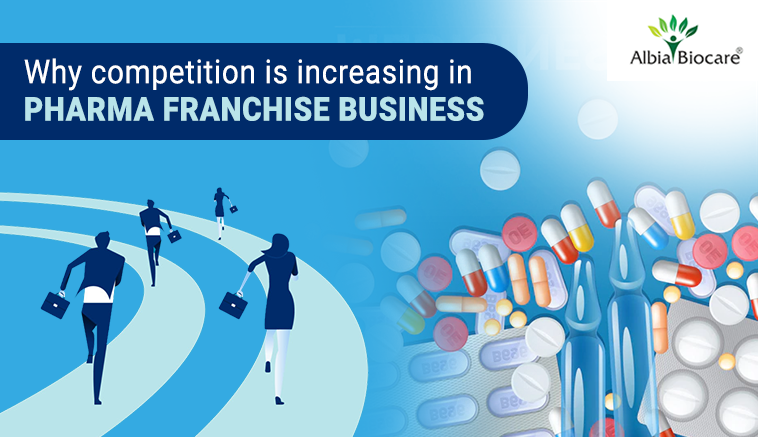 Introduction
The pharmaceutical industry has seen an increasing trend due to the emergence of new technologies and innovations. The growth was around $938 billions in 2017 whereas it will reach $1200 billion in 2022. In 2020, the pandemic made the world rethink about their health, turning them out to be more health conscious. So, this increased the supply of pharma products and opened up opportunities for health care ventures and fulfill global requirements through pharma franchise. 
India is home to many pharma organizations. The Indian pharma industry is one of the greatest market sections. Many global investors began to invest in Indian pharmaceutical industry. Many set up new manufacturing industries in the country while, few started to channelize their network for franchise distribution. This was an opportunity to make profits for many businesses during the pandemic. This is one of the main reason why pharmaceutical products in India are in great competition. 
There are other factors which support the growth of pharma franchise business. They are
Better growth opportunities
The franchise business model concentrates on setting a quick startup of their setup. Hence they can concentrate on its growth in a much focused manner. And also opening a pharma franchise company is beneficial because it can be opened on a small scale using local resources. The pharma franchise business is result-oriented if it is managed well. The pharma business offers a good amount of growth to the investors. But, one must make the decision carefully by keeping various points in mind. If the decision is not taken properly, the person might end up facing losses. In spite of the growing competition, there is a great chance to make profits. 
Various Incentives
Most of the companies in pharma industry do not ask their associates to complete any sales target, but some provide incentives if they do this task on their own. Incentives include bonus given by the company to its associates. Since, incentives are given many people enter into the pharma business, thus increasing the competition. 
Quality
Many companies produce quality products so that they can be ahead of others. But most of them end up making the same products because of which competition is increasing at a faster pace. But, companies need to make different products which make them stand out from the rest. The growth of the franchise business depends on the changes made in the types of products manufactured. 
Online pharmacy
An online pharmacy is an internet-based vendor who sells medicines for consumer use. In recent times, online pharmacy is of great demand as you can get all your medicines at your doorstep without stepping out. 
Low investments
Every business needs some investment whether it is large scale or small scale and so does pharma business. But, to start a PCD pharma franchise business the investor doesn't need to invest a huge amount to start and run it. This is one of the main reasons many people are coming forward to make money in this business. Many people enter this industry with just a medical background and thus it leads to increased competition in pharma business. 
Monopoly rights
One of the reasons for the increasing competition in the pharma business is that it offers monopoly right to its partners. A monopoly right is the allowance given to an individual to do someone's business in their own name or to resell their products or services. Many pharmaceutical companies provide this right to their associates but there are some people who enter this industry which ultimately increases the competition. 
Increasing demand
Another reason why the competition in PCD pharma franchise business is increasing is the rising demand of medicines. The supply is adequate but the demand is increasing when compared to it. Particularly after Covid-19, people are turning out to more health conscious, and they need quality medications to support their well-being. 
Conclusion
We at Albia Biocare, a well reputed name in PCD pharma company, strive to ensure that all our products meet the expectations of the customers. We are one of the leading PCD pharma companies with more than 15 years of pharmaceutical experience. Our qualified professionals help cater to the evolving needs of the customer. Contact us at +91 9988289049 or write to us at info@albia.in for more details.
Was this article helpful?